VRAY
UV-C PORTABLE STERILIZER (Kills 99.99% of COVID-19; 99.9% of Bacteria)
Kills 99.99% of COVID-19 Virus – Independent Lab Tested and Proven! HERE
High Intensity Portable UV-C Sterilizer

Vray is an optimized UV sterilizer developed to decontaminate all object and surface. Short-wave UV-C light has been commonly used in the sterilization of medical appliances, food and water purification since the mid-20th century. Vray is the optimized device to apply this technology to everyday household belongings while integrating the necessary safety features to accommodate everyday use.
Bacteria Count (Hidden dangers around the house)
You may be shocked by how many Bacteria, Germs and other Micro-organisms live on your everyday belongings. Even in a well-cleaned home, these micro-organisms are hard to detect as they are invisible to the human eye.
Germs live to thrive and multiply in any way they can. Did you know that when you flush, the water current can spread toilet-originated germs as far as 6 meters away? You need to control the hidden & unknown dangers with Vray. 

Portable or Hands-free
Equipped with a rechargeable battery, Vray can be used for four hours with one full charge. Cordless and lightweight at 505grams(1.11lb), Vray's portable design allows for sterilization anywhere around the home, car or office.
Also capable of hands-free operation, Vray's inner curve allows for 5 cm of space beneath the UV-C light. This 5 cm distance is the ideal range for optimized sterilization effect. Designed to maximize sterilization in a short duration, eradicate germs effectively with Vray. 

Safe Mode (Safety sensor against UV exposure)
Due to the high-intensity of UV-C wavelengths, direct exposure to humans or animals for excessive periods of time can be harmful. Vray prevents exposure to the skin and eyes with patented safety features to ensure exposure only to the sterilization target area by user's operating intention. 
Safe Lamp
Vray equipped with UV-C safe lamps with an anti-shatter coating. Safe lamp will break only internally so there are no glass fragments to clean up separately.
PRODUCT CHARACTERISTICS: 
✅Kills 99.9% of bacteria within 5 seconds of operation.
✅Very Handy, broad usage of sterilization for baby car seats, high chair,
playmat, cribs, car, bathrooms,
pet supplies and kitchen utensils.
✅Enlarged sterilization coverage of 1 x 1 Meter area with Handheld mode: baby room, bathrooms etc. Just a few clicks for the whole room.
✅Great for travelling to sterilization hotel beds, pillows and toilet bowls etc.

PRODUCT SPECIFICATION:
✅Made in Korea
✅Light weight design of 505g (approx 1.1 lbs )
✅INPUT : 100-240V, 50-60Hz
✅OUTPUT: 12V 2A
✅Fast charging of 2 hours and can be used continuously for 4 hours.
✅Dimensions: W48*L7*H11cm
✅2 modes 
✅Handheld Mode: 1x 1 M
✅Handfree Mode: 30 x 50 Cm
✅One year manufacturer warranty
WARNING: DO NOT EXPOSED TO SKIN AND EYES. KEEP MACHINE AWAY FROM CHILDREN
Customer Reviews
08/12/2020
Nina W.
Hong Kong SAR China
Highly recommended! Very handy!
Vray is super easy to use, very handy, and the design is also beautiful. It doesn't take up much space and I use it for our wallets, mobile phones, keys etc. When you place Vray higher up, it can cover a larger area thus you can also use it to clean your hats, handbags, backpack, shoes, and anything you can think of.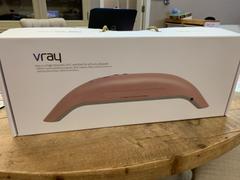 04/21/2020
Anonymous
Hong Kong
04/19/2020
Anonymous
Hong Kong
04/14/2020
Chan H.
Hong Kong
UV machine
Good! Thank you!